Google Analytics is a powerful tool for measuring activity on your MetaLocator application.  You must first have a
Google Analytics account
. Once you have created a Google Analytics account, you will receive a UA code that uniquely identifies your account.  These are show in the accounts view next to the domain name of your Web site as shown here:
Simply copy and paste that value directly into the
Analytics Settings
section of your desired interface, or interfaces.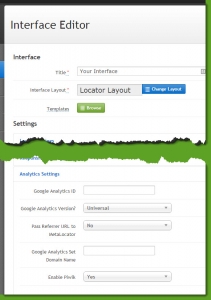 If this analytics account is the same account used on the website hosting the interface, be sure to set
Enable Cross-domain tracking
to
Yes
. Ensure you add your own domain to the
referral exclusion
list
according to these instructions
. Allow up to 24 hours for data from MetaLocator to appear in your Google Analytics. In addition to visits, MetaLocator also creates custom events so you can see what locations users are clicking on and what they are searching for. See the "Events" data for details on that information.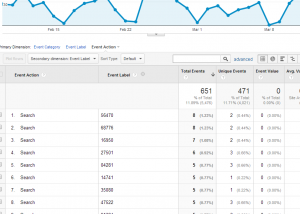 Google Tag Manager
MetaLocator includes Google Tag Manager support.  When tracking Google Analytics through Google Tag manager, add the Tag Manager code snippets in the header and footer, as instructed by Google.  This method recently changed (Q4 2016) when Google introduced the two-part snippet.  Insert as shown below: [fusion_builder_container hundred_percent="yes" overflow="visible"][fusion_builder_row][fusion_builder_column type="1_1" background_position="left top" background_color="" border_size="" border_color="" border_style="solid" spacing="yes" background_image="" background_repeat="no-repeat" padding="" margin_top="0px" margin_bottom="0px" class="" id="" animation_type="" animation_speed="0.3" animation_direction="left" hide_on_mobile="no" center_content="no" min_height="none"][caption id="attachment_4679" align="alignnone" width="300"]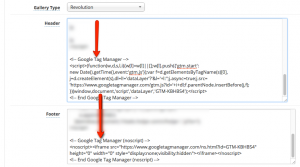 Click for larger image[/caption] If you are also using the same Google Analytics via Tag Manager on the Website that hosts the locator, ensure the "Enable Cross Domain Analytics via Google Tag Manager" support is enabled under your Interface Analytics settings.  This ensures that the framed locator attaches analytics events through the existing tracker created on the contained page. [/fusion_builder_column][fusion_builder_column type="1_1" background_position="left top" background_color="" border_size="" border_color="" border_style="solid" spacing="yes" background_image="" background_repeat="no-repeat" padding="" margin_top="0px" margin_bottom="0px" class="" id="" animation_type="" animation_speed="0.3" animation_direction="left" hide_on_mobile="no" center_content="no" min_height="none"][caption id="attachment_4680" align="alignnone" width="300"]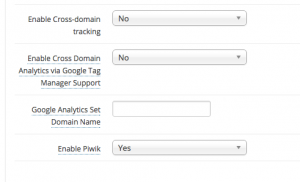 Click for larger image[/caption]    [/fusion_builder_column][/fusion_builder_row][/fusion_builder_container]