There are two basic strategies for using MetaLocator on mobile devices:
1 - Responsive Layout
MetaLocator knows when it has been loaded by a small format screen and changes it's behavior and layout accordingly.  This is generally referred to as "responsive behavior".  This means that your existing Interface can change it's layout based on settings and optionally custom CSS provided in your Interface settings.  See the 
Responsive Settings
as shown below: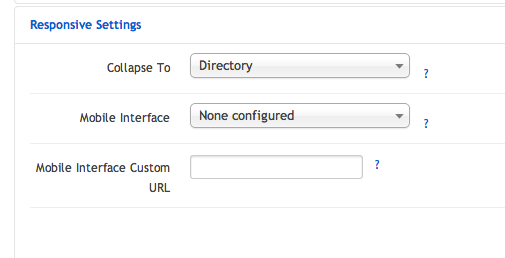 The 
Collapse To
feature determines how your MetaLocator Interface will behave as it's container (your Website) gets smaller, as when loaded by a mobile device or tablet computer.  By default, the interface will
hide the map and only show the directory
as the display becomes small.  This is what "Collapse To" means, as the display will "collapse to" the directory when its available space decreases.  You can change this behavior to collapse to only the map, or you can choose to display both the directory and the map.  The directory is the simplest user interface to control on the wide array of mobile devices, and is the default setting.  Some users wonder why there is no map displayed when the Interface is displayed on a mobile device and this setting is why that happens. This responsive behavior depends on the size of the
container
in which MetaLocator's interface was loaded.  This container is a page on your Web site.  Therefore, for the responsive features of MetaLocator to function, your Website must also be responsive to device width changes.  The simplest responsive behavior is to use a container with a 
percent width, 
such as 100%.  Fixed width containers will not shrink with device changes, and therefore prevent MetaLocator from responsively re-sizing.  Changes to your Website to facilitate responsive behavior should be implemented with the assistance of your Webmaster.
2 - Mobile App
MetaLocator also provides a mobile app.  The mobile app is created as a separate MetaLocator Interface.  The mobile app is a complete user experience independent of your Web site.  It presents an easy to use, full-screen, touch-friendly application that was designed from the ground-up for mobile devices.  The mobile app is an HTML5 application, and is
not intended for submission
to app stores, including the Apple App Store. You can designate when a given traditional MetaLocator Interface is loaded, that it should 
redirect
to a Mobile Interface.  See the screen shot above and notice the "Mobile Interface" drop-down.  If you create a mobile Interface, it will be available to select from that drop-down list.  Once chosen, when your traditional MetaLocator interface is loaded by a mobile device, such as an iPhone, Android or iPad, the interface will redirect to the mobile app. For complete details please see additional articles on configuring and using the
mobile app
.
3 - Platform-As-A-Service (JSON RESTful API)
MetaLocator has a PaaS API available to that allows for custom development of your own 3rd party application.  The PaaS API is available to
Enterprise customers
and pricing is provided upon request.  The PaaS API should not be confused with the
Data Management API
, which is included in the Platinum level.