MetaLocator includes multiple methods of obtaining directions to your locations from various starting points.  This article explains the different options and how to configure each method.
Integrated Directions
To enable an integrated directions link that displays directions within and below the Interface, set "
Show Internal Directions
" to
Yes
under "Map Settings".  The integrated directions allow the user to enter a start address and the results are presented directly within the MetaLocator window. This results in a prompt as shown here: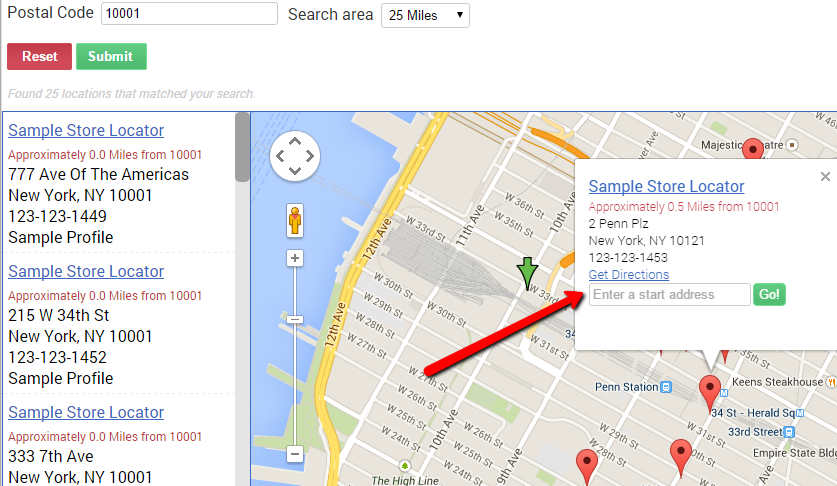 You can enable additional directions options including the ability to get directions from the center of the user's search, or their detected location.  These options are enabled by setting "
Show Enhanced Directions Options
" to "Yes" under "Map Settings".  These new options still allow the end user to enter a custom location, but they also provide the following two options as shown here: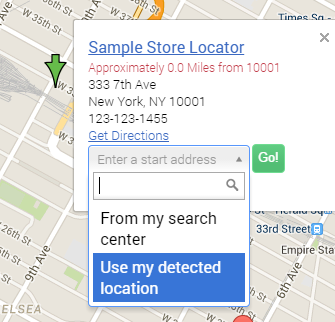 From My Search Center
:  This option will obtain directions from the center point of the user's search.  This is commonly the center of a postal code, street address or other geographic search term.  This option only appears if a geographic search of any kind has been performed.
Use My Detected Location
:  This option will prompt the user to allow MetaLocator to use the browser's position.  This is commonly a very accurate determination of the end-users location, but is only available in modern browsers that support
HTML5 location
.  
External Directions
Some users prefer linking directly to Google's driving directions page.  This method can also invoke the user's default mapping application on mobile devices and tablets. To disable MetaLocator's default integrated driving directions link, first set "
Show Internal Directions
" to
No
under "Map Settings". Then, to enable the new driving directions link, add the "Directions" field to the required
Item Template
, as shown here: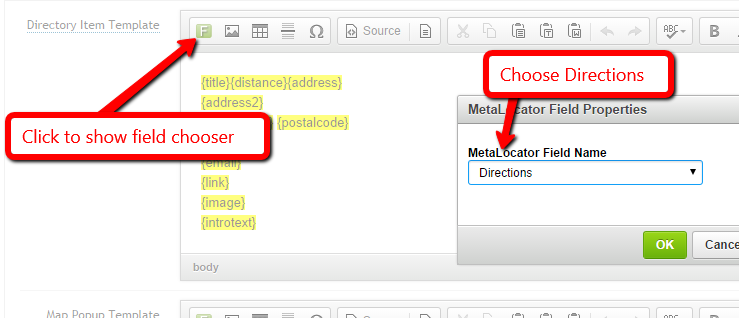 The result is a directions link displayed according to the placement in the desired Item Address Format