You can quickly export your data from MetaLocator into a spreadsheet format.  The process is quite simple, and begins by logging into the MetaLocator Control Panel, choosing
Data
, then
Export
.
There are a few options to explore.  Just clicking Export will export all of your data into a CSV spreadsheet for download.
Exporting Selected Records
If you prefer to export data that originated from a certain Import, you can choose the filename from the the drop down list. If you have created a search under
Data
>
All Records
as shown below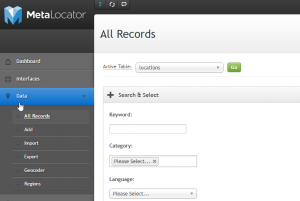 This filter will persist in the Export process, as notified on the Export screen.  This is helpful when exporting a subset of records that may match complex criteria like a certain state, keyword or categories.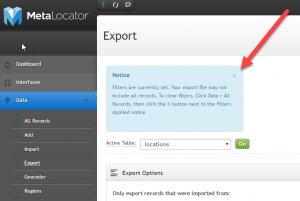 Exporting the MetaLocator ID
Also, you can choose if you would like to include the MetaLocator-assigned ID number.  When importing your data, if the system encounters the MetaLocator-assigned ID number, it will UPDATE the records with a matching ID number instead of inserting new records.