Google recently switched to a pooled quota their Google Maps API used without an API key. As a result, you might see this error: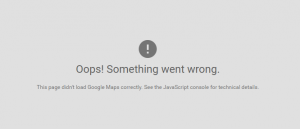 This error indicates that you are using Google Maps without an API key. There are two solutions to this problem:
Switch to Leaflet Maps: This option causes your interface to use a different mapping library. The behavior and functionality is identical except the map tile imagery comes from another provider.
Obtain a Google API Key: With this option you can continue to use the Google Maps API with your own individual map view quota.
Switching to Leaflet
Log in to your MetaLocator account, and choose Interfaces. Click the name of the Interface in question.
Under Map Settings, set Map Vendor to Leaflet. Click Save & Close.
Done!
Obtain & Configure an API Key
Visit this link and click "Get a Key" as shown below. A Google account is required for this step.
Once obtained, the key will be a long alphanumeric string. Add that under Advanced Settings > Google API Key
Click Save & Close.
Done!