Product finders are a type of locator that includes the tracking of a list of products for each location. Users can search by a combination of location and product to produce results that show only locations near their search term that stock the requested product. MetaLocator is especially well-suited to support this type of locator. There are a few variations of a product finder. In this example, we'll be exploring a use case where the following conditions are met:
We have a variable inventory from location to location
Products include a UPC, SKU or similar unique identifier
Products may also include a name, price, description or similar details
Our customers can also create
category-based product finders
, where the notion of a product is handled by our category system. That simpler method is recommended when the locator doesn't require product details like categories, descriptions, or SKU numbers.
Getting Started
Our first objective will be to properly structure an import data file that includes both locations and products. This approach is one of a few methods of importing this data, but it's the most common. In this example, we will create a single data file that includes both location and product data by repeating the location row for each product stocked by that location. We will also create a product data file that includes all information for our products.
Importing Products
Before we can import locations with products, we need to configure our product list. In MetaLocator's dashboard, create a product table by clicking Data > Tables, click
New
in the upper right and enter "products" (without the quotes) in Table Name field.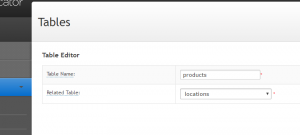 The next step is to create a data file that includes your product information. Your columns and information may vary, but the minimum information is a SKU field and a Name field as shown below:

The SKU should uniquely identify the product. The SKU should never repeat in this file. Each row should represent a single product. SKU is an example of an External Key. This External Key is included by default in new tables. If your unique product identifier is something different, like UPC, you can re-name the SKU field as needed by clicking Fields, choosing the product table and editing the SKU field. More information on
External Keys can be found here
. Now we can import the products list shown above by clicking Data > Import, and choosing the Products table as shown here: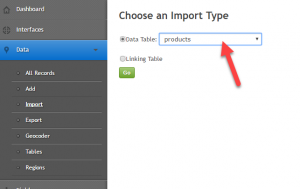 In our example, the columns were all recognized as shown below. Click Next, then "Add" on the import options screen: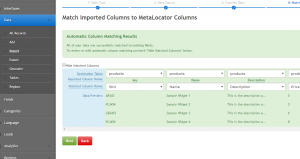 Importing Locations and Products
With our product data imported, we can now import locations and the products they carry in a single file. The file includes our location information in the usual columns, but also includes the SKU column. When a location carries more than one product, the location row is repeated. In this file, each row represents the unique combination of location and product.

Import this data by choosing Data > Import, choose the Locations table in this step. In the Match Columns step, SKU will appear as an unknown field. Select "Products" in the Destination table drop-down as shown here: