MetaLocator Templates allow you fine control over the display of the fields within your MetaLocator database. Through the use of specially formatted tags, the templates allow you to re-arrange fields, hide fields and also control the display formatting of fields. Templates also allow you to include custom HTML within your individual locations, allowing for exceptional control and customization of your locator. There are 4 templates in each Interface. They are as follows:
Directory Item Template
Map Popup Template
Detail Page Item Template
Detail Page Map Popup Template
These templates appear in your Interface in different locations based on your settings. This graphic shows the location of the first two address templates within the Interface Layout.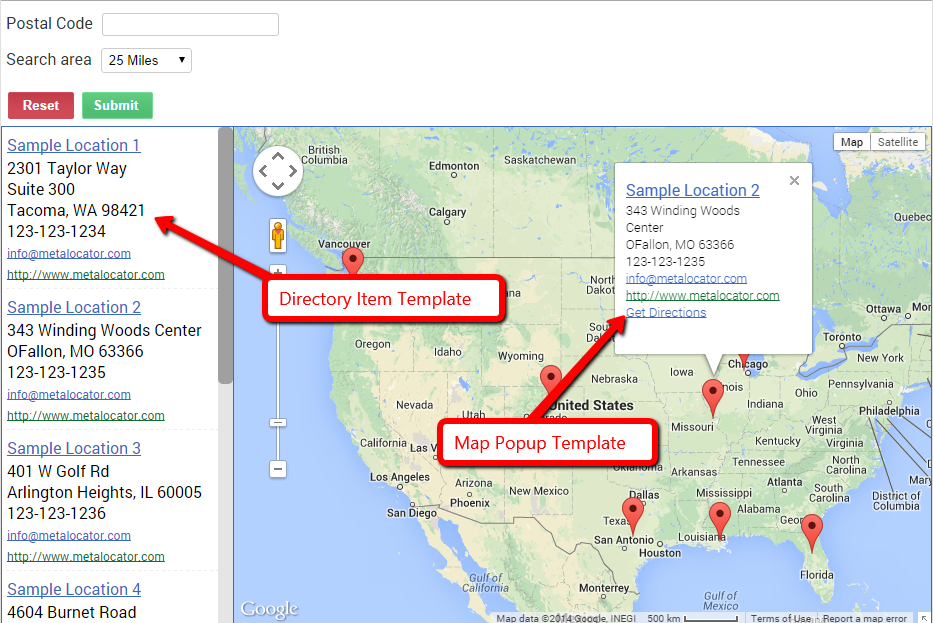 To edit these templates, find them under your Interface settings, in the
Template Settings
group.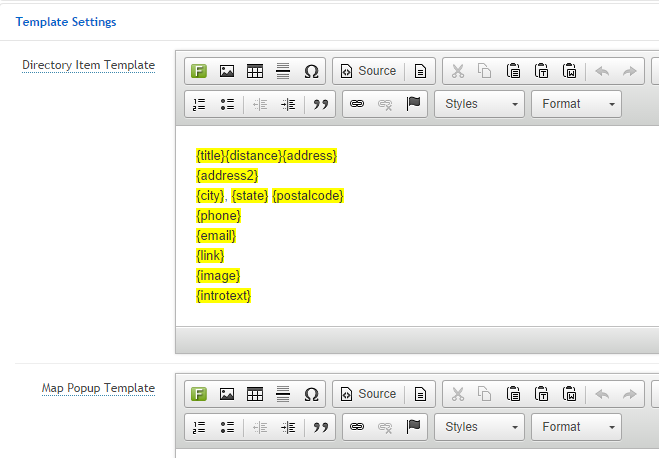 Click the
green MetaLocator Fields button
to open the Field Chooser.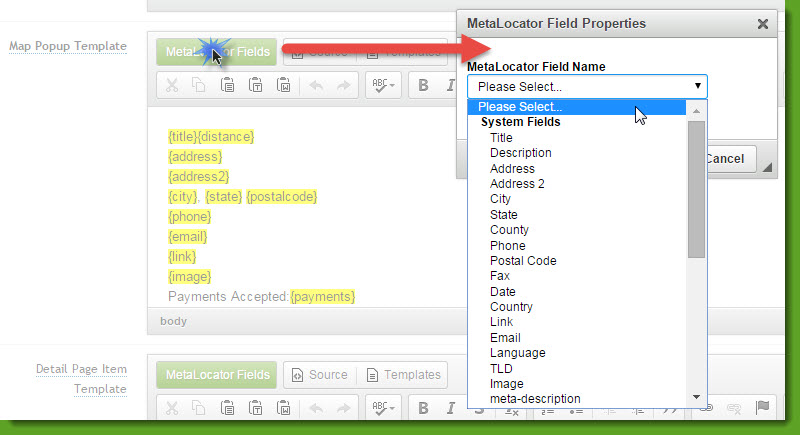 You can choose and add MetaLocator fields directly from list list.  If you prefer direct control of the template, or you wish to add special HTML to these layouts, click
Source 
from the editor toolbar to reveal the template markup. Additionally, there are two templates for the item detail pages. These are the pages you see when you're viewing a single location.  You can find these formats under the
Template Settings
group of your Interface Settings: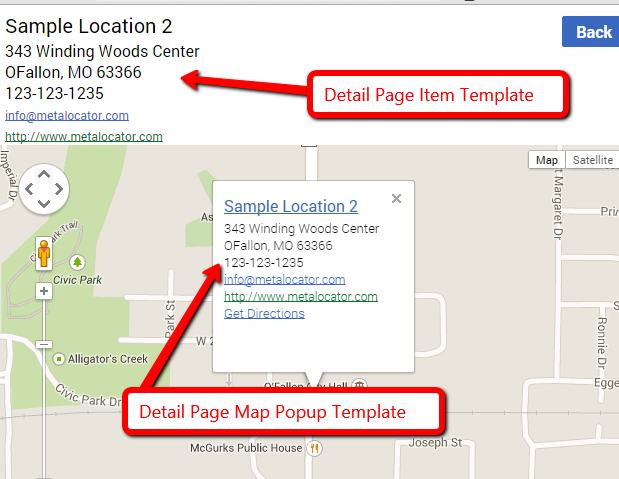 Within each template, you'll find template markup that includes the various fields that will be used to display the actual location data. A common default Template is:
{title}{distance}<br />{address}<br/>{address2}<br/> 
{city}, {state} {postalcode}<br/>
{phone}<br/>{link}<br/>{email}<br />
{description}
  This formatting used to dynamically display the location data. Adding, moving and removing fields and markup within this template will change how your location data is displayed for a given Template. The default above includes standard fields that a typical user would expect to see when searching your database. If, for example, you do not wish to include the display of your "Address 2" field within the Interface, simply remove the
{address2}
template markup from the Template and save your Interface settings. Template markup tags are named according to the field they display. If you have added custom fields, a new template tag will be created according to that field's name. You can see all of your field tags shown in the Field column, found under "Fields". Additionally, other fields including:
{title} - The location name which is automatically linked to either the detail page or the map marker popup depending on configuration.
{text_name} - A plain-text version of the location name.
{introtext} - Description field text found before a "Read More" separator
{fulltext} - The complete description field, synonymous with {description}
{resttext} - Description field text found after a "Read More" separator
{distance} - The formatted distance description. Distance is only populated if the user performs a distance-based search and provides a location in the process.
{directions} - A link to Google Maps directions.
{internal_directions} - A link to internal directions system.
{itemid} - The internal system ID number of the Interface.
{id} - The internal system ID number of the Record.  This category can be used to build links to other MetaLocator Item pages.  An astute user may notice that Item Detail Pages are constructed in a standard way and include the Itemid and id number.  Markup such as <a href="index.php?option=com_locator&view=location&layout=default&id={id}&tmpl=component&Itemid={itemid}">Click here</a> will be dynamically updated to a correct link for that location.
{offset} - The zero-based offset of the search result.
{number} - The 1-based number of the search result.
{lat} - Th