When MetaLocator displays it's interface you have various options for what happens when your users click on certain elements.  This article explores those options  and explains each one.  Let's start with a tour of the default Locator Layout and establish some vocabulary.  Here is a default setup with just a few locations.  You can safely ignore the red markup for now.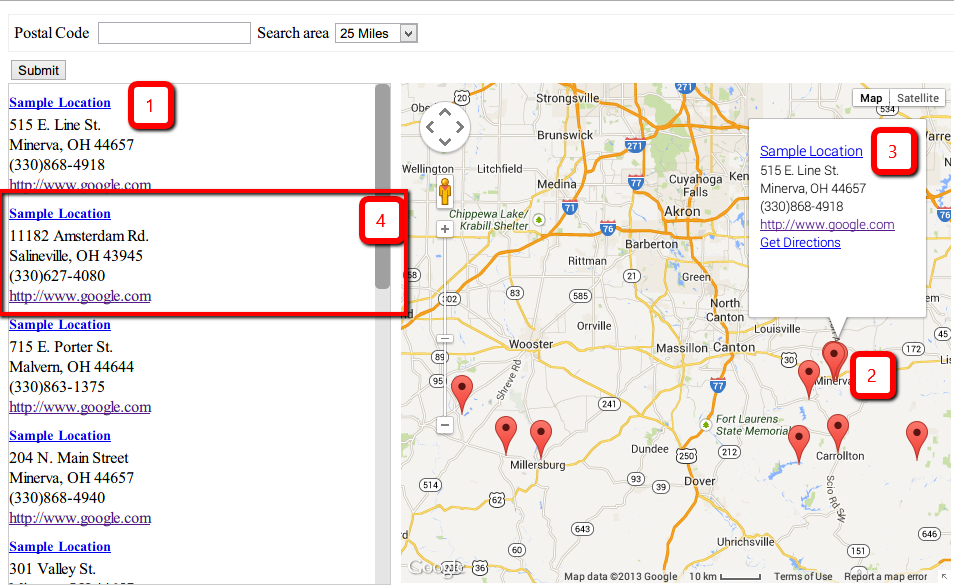 The text-based list of results is commonly referred to as the 
directory 
and the map is called, well, the 
map
.  These two interface elements can work together or separately depending on your settings.  You can display your results as a map only, or as a directory only, or as both as shown in the example above.  To hide the map or the directory, see these options
Layout Settings: Show a Map?
Layout Settings: Show a directory?
By default, clicking on the title of an entry on the left (1) will cause the window (3) above the corresponding marker (2) to pop up so the user can see details about that location. You can cause this marker window to pop up when the visitor's mouse 
hover
s over the search result area, as indicated by the red box (4).  To enable that feature configuration the following Interface setting:
Map Settings: Open Map Marker on Hover?: Yes
Also, clicking the Location Title (3) in the map popup window will take you to the detail page of the individual location.  That behavior can be disabled by setting the following option
Map Settings: Hyperlink Marker Title to Item Page?: No

Alternatively, you can link the marker itself to the link contained in the 
Link
 field of that location.  To do that, set this option
Map Settings: Link Marker to Link Field?: Yes