Interfaces are the heart of MetaLocator.  Here you design your search solutions which are ultimately displayed on your website.  You may create multiple Interfaces and each Interface you create can be totally unique in both the data it displays, searches available, visitor look and feel - all through the settings used.  To get started, select the Interfaces tab under your Dashboard then click "New" in the upper right.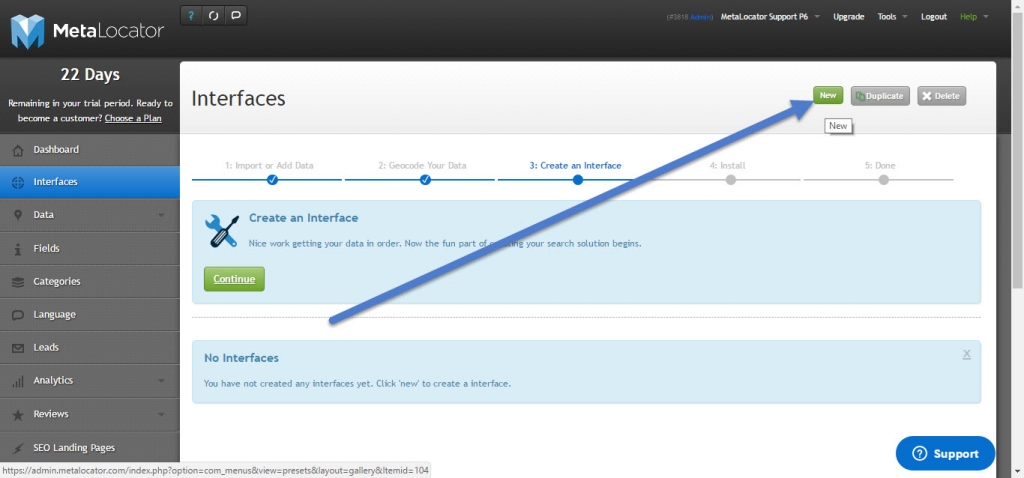 Choose from our numerous Interface templates. One or more will fit your project and design. Any of these are a starting point for you yet for many customers they require little or no customization.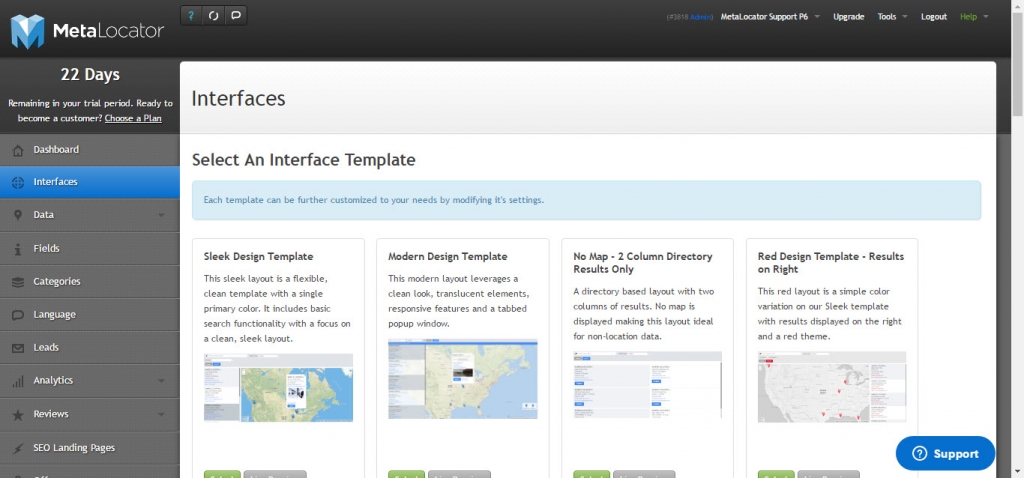 Once you select a template it will be saved in your account as an Interface you can use and customize. If you wish to provide a descriptive name you may by updating the name then saving the Interface. This name is more or less for your internal reference unless you use our option to display it as a title.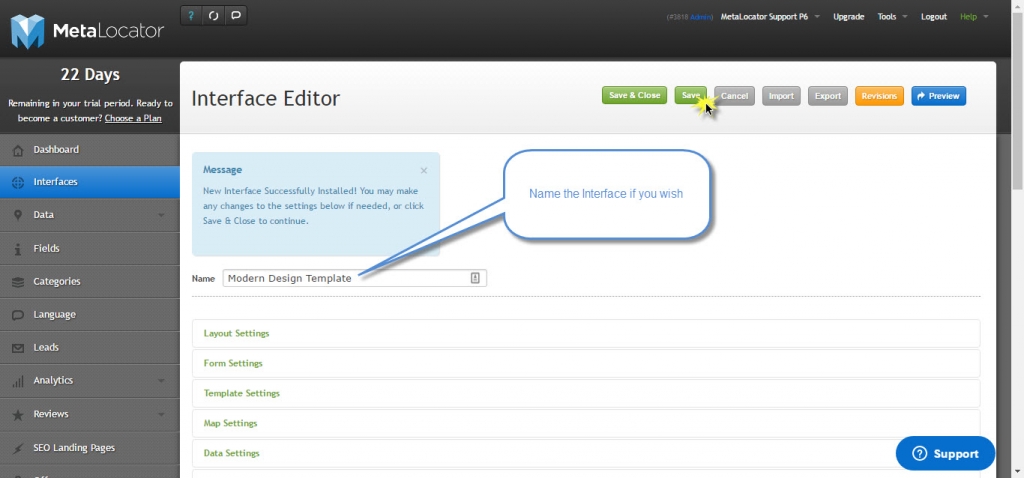 Once you create an Interface you will be presented with the Interface Editor. The editor allows for your customizations. The Interface Editor can also be accessed via the Interfaces tab, then by selecting the Interface you wish to work with. You may have any number of Interfaces to meet your project needs. Creating a new or duplicating an existing Interface is a great way to experiment and refine your Interface settings before allowing those changes to be applied to your website.

Each Interface Setting is grouped with common or related settings. Click the name of the settings group to expand the group and show the settings.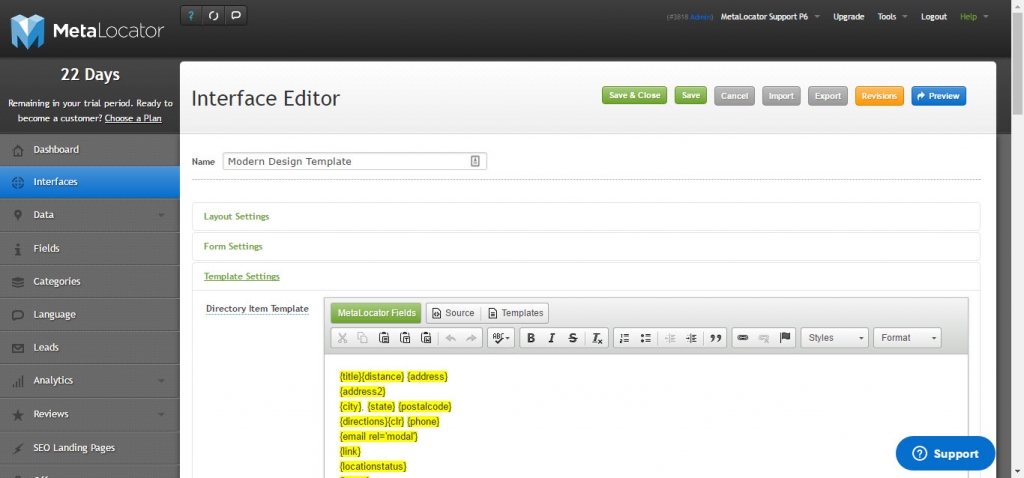 Documentation is nearby. If you hover your mouse (1, 3) over the name of the setting, a brief explanation will be shown in a tooltip. Next to major settings is a link to a video (2) about that setting.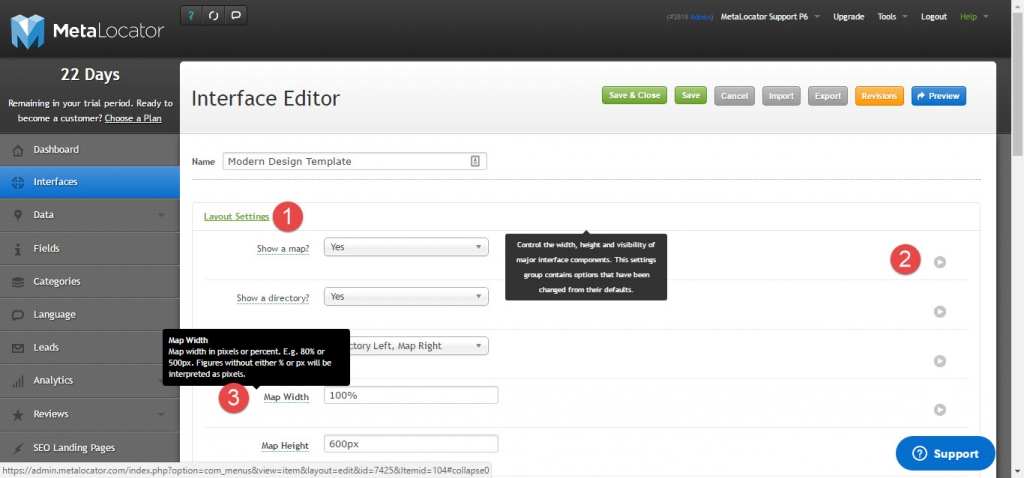 Save your Interface following changes by clicking "
Save
" in the upper right.  Once you have saved your Interface, you can interact with the
 Interface by clicking "
Preview
" in the upper right toolbar.
Once you are satisfied with the appearance of your Interface, you can deploy the Interface to your website by copying and pasting the code provided for that Interface to your website within the page you would like the Interface to appear. The installation code for each Interface is unique.  This allows you to create multiple Interfaces, and deploy them individually as needed. The one line of HTML installation code is obtained via the main list of Interfaces as shown below.


MetaLocator works within your website, and should appear as a seamless, integrated aspect of your site once deployed. Following installation the code itself doesn't change as updates to your installed Interface are accomplished via the Interface Editor. The installation step on your page sometimes requires experimentation due to the sizing and kind of the container you've provided. Our documentation has articles for these details and MetaLocator support is ready to help should you need it.