You can import location data directly from your SalesForce Account into MetaLocator.  To import your data, click Data, then Import.  Choose the Salesforce icon as your Data Source: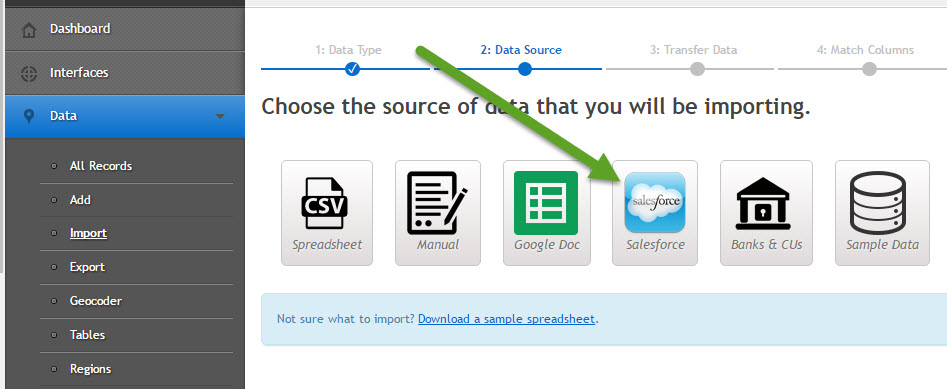 Click next to show the SalesForce Connection information.  Here you must provide your SalesForce credentials to connect your account.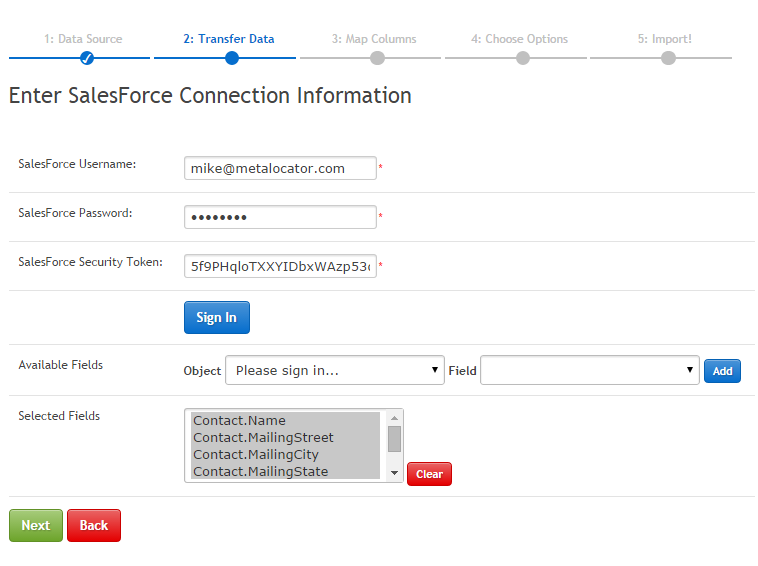 Once you provide a username, password and
security token
, click
Sign In
. This will load the SalesForce Objects available to your account in the Object drop-down box.  To choose fields to import, choose the SalesForce object first.  That will load the list of SalesForce Fields available from that object.  Choose a desired field and click
Add
to add it to the Selected Fields.  Continue adding fields as needed. Those requiring access to a SalesForce Sandbox Account must provide the Sandbox WSDL from their SFDC account.  Submit the data to MetaLocator via
Helpdesk Ticket
. Be sure to include basic location information for your records and a field for the name.  The data you choose to import should include at a minimum, Name (E.g. location name), Street Address City, State and Postal code.
Important:
You can only import fields from a single object at a time. Click
Next
, and the import process will continue as usual.  Be sure to appropriately map your SalesForce columns to MetaLocator System columns as provided during the next step in the 
import process
. Watch as we map our SalesForce fields in this video.