When building location landing pages, MetaLocator can connect directly to your Wordpress website and create or update a Wordpress post (or page) for each location. MetaLocator uses the Wordpress Rest API and oAuth to do this securely. Be sure to follow the steps on this post exactly, since there are quite a few different versions and types of plugins that have very similar names. Use the links below to install the correct plugins.
Step 1
: Install the required plugins in your Wordpress Site. General instructions on installing plugins can be
found here
.
oAuth 1.0a.: This plugin allows us to connect to your Website securely. Download, install and activate the plugin. We'll configure it in step 2.
Raw HTML This allows MetaLocator to create a post that does not have paragraph tags and other formatting items within the code.
Wordpress Rest API v1: This plugin enables MetaLocator to create and update content in your Wordpress Website. We use version 1.0. Install and activate the plugin.
Step 2
: Authorize MetaLocator to publish on your Web site. Once the Wordpress oAuth plugin is installed, a new option under "Users", called "Applications" will be available as shown below: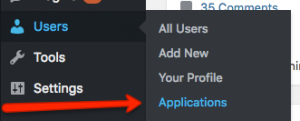 Click "Add New" as shown below:

Then, configure the application as shown below, with the callback set to:
https://admin.metalocator.com/oauthcallback
[fusion_builder_container hundred_percent="yes" overflow="visible"][fusion_builder_row][fusion_builder_column type="1_1" background_position="left top" background_color="" border_size="" border_color="" border_style="solid" spacing="yes" background_image="" background_repeat="no-repeat" padding="" margin_top="0px" margin_bottom="0px" class="" id="" animation_type="" animation_speed="0.3" animation_direction="left" hide_on_mobile="no" center_content="no" min_height="none"][caption id="attachment_4827" align="alignnone" width="300"]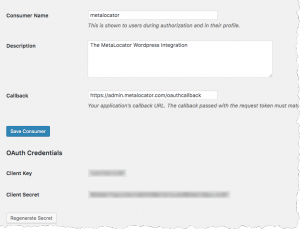 Click for larger image[/caption] Click "Save Consumer", and the system will generate a new Client Key and Client Secret. These two codes are used by MetaLocator to securely
request permission
to connect to your Web site. Return to the MetaLocator control panel, and open the Interface that will be connected to Wordpress. Under the SEO Landing Pages group of settings, there is a sub-group of Wordpress-related settings. In that group, copy and paste the Client Key and Client Secret obtained above in the settings as shown below:

Enable the oAuth method as shown below:

Important
: First, save the Interface, using the "
Save
" button in the upper right. Then, return to this group and click
Authorize
. To change the keys or remove the authorization, click DeAuthorize, then optionally enter your new keys. This will direct you back to your Wordpress Website, where you will be prompted to Authorize MetaLocator to publish to your Web site as shown below: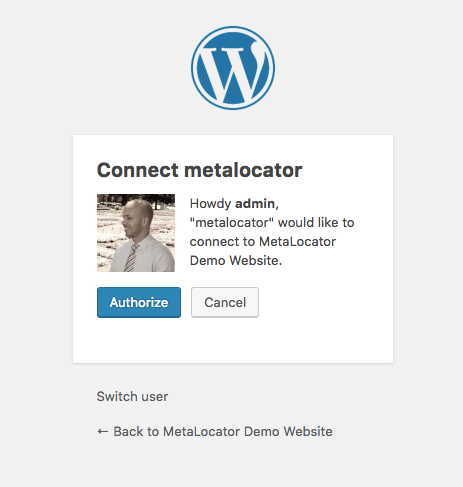 To revoke permission in the future,